Submitted by conqueroo on Fri, 11/16/2012 - 17:12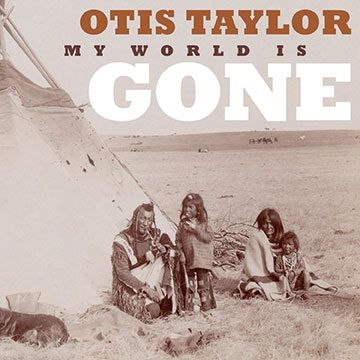 Otis Taylor: My World is Gone


Roots music visionary Otis Taylor's 13th album, My World Is Gone, set for release February 12, 2013 on Telarc, a division of Concord Music Group, is a lightning bolt of musical creativity and social commentary. Its songs crackle with poetic intelligence and a unique, adventurous sound that balances the modern world with echoes of ancient Africa, Appalachia and more.
To call Taylor a cutting edge artist is an understatement. Although his music is based in the blues and folk realm, his meticulously crafted recordings crash the barriers of jazz, rock, funk, Americana and myriad other genres to create a hybrid that Taylor labels "trance blues." And that signature style serves as a backbone for his frank tales of struggle, freedom, desire, conflict and, of course, love.
The central theme of My World Is Gone was fueled by Taylor's friend Mato Nanji, the singer-guitarist and cornerstone of the band Indigenous. "Mato inspired the entire direction of this album," Taylor relates. "We were talking about history backstage at a Jimi Hendrix tribute concert that Mato had just played, and, in reference to his people, the Native American Nakota Nation, he said 'My world is gone.' The simplicity and honesty of those four words was so heavy, I knew what I had to write about."
Taylor had already begun composing new tunes with other themes for his follow-up to 2012's critically heralded Contraband. Three of those — "Green Apples," "Gangster and Iztatoz Chauffeur" and "Coming With Crosses" — appear on My World Is Gone.
But inspired by Nanji — who plays electric and acoustic guitars on six tracks and joins Taylor on vocals for several songs — and by his own understanding of Native American culture developed in part through dealing in Indian art as a young man, Taylor embarked on a soul-searching journey into the past and present, and into the psyche, of America's indigenous people.
"I've written songs about slavery, but here in America that's considered part of the past," Taylor explains. "What's happened and what's happening to Native Americans is still going on. A lot of people forget that. This is a reminder."
With his customary brevity, power and grace, Taylor conveys his stories in intimate detail and uses his rich baritone voice to give his characters breath and humanity. The album starts on point with "My World Is Gone," portraying how the gilded seductions of the white man's culture undermined the Native American way of life. The melancholy in Taylor's and Nanji's vocal performance, as they sing from the perspective of an Indian tormented by temptation and loss, is buoyed by the gentle melodies of Anne Harris' fiddle and Nanji's electric and acoustic guitars — the acoustic six-string an Otis Taylor signature model, with only 14 frets, built by the premier instrument makers at Santa Cruz Guitars.
Taylor revisits his song "Lost My Horse," which originally appeared on 2001's White African, with a new arrangement that features him and Nanji trading guitar and mandolin lines.
"In the days of the frontier, having a horse could be a matter of life or death, or comfort or poverty, and the horse has been an important part of Native American culture in the west, so the song fit perfectly," he explains.
"Sand Creek Massacre Mourning," which recounts the murder of 200 Cheyenne and Arapaho victims by Col. John Chivington's cavalry in 1864, rests on the backbone of Taylor's banjo, his primary instrument. He's played mostly electric banjos on previous albums, save for 2008's roots-focused Recapturing the Banjo, but on My World Is Gone Taylor employs four-, five- and six-string acoustic models. "I wanted to get back to that organic sound, because the banjo's spoken to me since I was a kid," he says. "Its voice instantly brings you back in time, and so much of My World Is Gone is about history and tradition that its sound is perfect for these songs."
Nanji again shares vocals with Taylor on "Blue Rain in Africa," in which a Native American reflects on the survival of his culture, despite the odds, after seeing the birth of a white buffalo — a rare and highly sacred event — on TV. The song's threads of hope are a striking contrast to "Never Been to the Reservation," with its lyrics about "babies sleeping on the ground," although both numbers benefit from Nanji's burnished blues licks.
While Taylor's vision can be dark and ominous — the title "Coming With Crosses" is self-explanatory — his songs often celebrate hope and beauty in poignant ways. "Jae Jae Waltz" uses its spare construction of banjo, drums, bass and guest Ron Miles' cornet to tell a story of a widow's search for new love, and "Sit Across Your Table" celebrates the comfort and joy a workingman takes in his marriage. The song is also a surprising foray into untempered rock 'n' roll, with a wailing guitar solo by Shawn Starski.
Starski and Taylor are versatile musicians who make their six-strings sound like an African kora on both "Green Apples" and the quirky Elmore Leonard-like tale "Gangster and Iztatoz Chauffeur." Starski is the latest addition to Taylor's touring band, which also includes Anne Harris on fiddle, Larry Thompson on drums and bassist Todd Edmunds, who has replaced Taylor's daughter Cassie, a fixture of his earlier albums and groups. She now leads her own band, Cassie Taylor & the Soul Cavalry.
Otis Taylor's own parents were an important part of his musical foundation. His father was a passionate jazz fan who encouraged his son to become a musician. His mother has become the subject of several of Taylor's songs. Although he was born in Chicago in 1948, his parents relocated their family to Denver when Taylor was a small child in part to protect their son from the harsh realities of urban living. In addition to listening to jazz in his father's record collection, he fell deeply under the spell of the Mississippi Delta legend John Lee Hooker, whose spare, almost mystical sound still resonates in Taylor's own work.
"I get a lot of my sense of space and my vocal phrasing from John Lee Hooker, whose music, especially his solo recordings, is so heavy and has so much space that it sounds like it's alive," Taylor explains. His other vocal totem is James Brown, whose shouts and howls inspire the thunderous vocal declamations that punctuate many of Taylor's own recordings.
As a young man, Taylor mastered the banjo and moved on to the harmonica and guitar. He performed with electric guitar virtuoso Tommy Bolin as T&O Short Line, and by 1974-76, he was playing bass as part of the Boulder-based rock group Zephyr. Taylor even jammed with Jimi Hendrix once and pursued his muse to Europe, but frustrations with the music business led him to retire from performing in 1977. He became a dealer in art and antiques, and pursued another of his passions, bicycle racing, as a coach.
In the '90s, the door to Taylor's musical past was pried open by friends in the Boulder area, and in 1996, he independently released his debut album, Blue Eyed Monster. With the release of his next two discs, When Negroes Walked the Earth and White African, he began to shake up the blues world with his marvelously original music and his unflinching tales about racism, struggle and heritage. Over the years, Taylor has garnered more than a dozen Blues Music Awards nominations, and White African won Best Debut Album. He is also regularly nominated as an instrumentalist, and won a Blues Music Award for his imaginative banjo playing in 2009. Also, his albums Double V, Definition of a Circle and Recapturing the Banjo took Downbeat's Best Blues CD awards in 2005, 2007 and 2008, respectively. In all, Taylor has won five DownBeat awards. He has also been nominated twice for the prestigious Académie Charles Cros award in France.
His 2009 recording, Pentatonic Wars and Love Songs, was released in the same week that two of Taylor's songs were heard by millions in Michael Mann's blockbuster movie Public Enemies starring Johnny Depp and Christian Bale.
In 2010, Taylor started his own annual Trance Blues Festival in Boulder, Colorado, which brings a broad cast of professional and amateur musicians together for three days of performances, jams and workshops.
"The thing about music is that it's not just a spectator sport," Taylor says. "In a world where there's a lot of misunderstanding, music can help people communicate and break down barriers, and start to really see each other for who they are.
"I write songs about people remembering, bearing witness," Taylor continues. "I've learned that if you write about things that are important, people will listen. That's one of the reasons why I wrote the songs that I did for My World Is Gone.
"I push myself to be prolific and to make every new album better than the last one for personal reasons, too," he relates. "A few years ago I had a cyst removed that was attached to my liver and spine. It was a life-threatening situation — really painful. I didn't know if I was going to survive the surgery. I came to grips with the idea that the albums I'm making are going to be my legacy. And I want the people who love me — my family, my friends — to be proud."