Blues inspire Nanji off reservation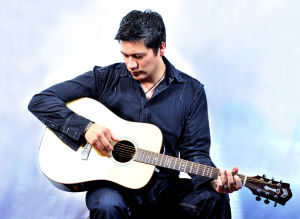 DECATUR – Growing up on the Yankton Sioux Reservation in South Dakota, Mato Nanji said classic American blues were not exactly the most popular form of music around. Most of the Native American residents listened to country if they listened to popular music at all, which made Nanji's deep appreciation for the blues all the more unusual.
It was thanks to his father, the pioneering leader of a 1960s blues band called The Vanishing Americans, that Nanji was exposed to music in the first place. With his father as his idol, the sound of the blues took hold of him and has never let go to this day.
"He and his brothers, my uncles, they were my heroes because they were in the band, even though it was before I was born," said Nanji, who comes to Decatur Thursday night with his own band Indigenous as the first performer in the summer's Blues in Central Park series. "I never even got to see his band play together, but I listened to all of the records. He became a community leader, and he put the energy from the band into our family and teaching my siblings our instruments."
Formed in 1998, Indigenous became the family band's next generation. Mato was the frontman, joined by his brother Pte, sister Wanbdi and their cousin Horse on drums. In the late 2000's, the other family members went their separate ways, but Mato Nanji played on and built himself a new band to continue his signature blues-rock sound.
"When we first started, Dad gave me some advice," he said. "He and his band did a lot of covers, but the first thing he told me is 'You've got to write your own music, because that's what you want people to remember you for.' And so that's what I've always done."
Likewise, leaving the "family band" format behind and striking out truly on his own helped Nanji step forward as a band leader. He still finds new inspiration in the blues, admiring the genre's focus on emotional intensity and a lack of reservations and self-awareness while performing.
"The great blues musicians don't hold back, they put it all on the line," he said. "That's always been inspiring to me. I know that a lot of people say they think it's sad music, but in my experience it makes you feel better about life. It's music to bring you up when you're feeling low, it gets you up and dancing and putting your troubles behind you."
Outside of Indigenous, the guitarist has also kept busy as a member of the annual Experience Hendrix Tour for more than a decade. It's just another opportunity to play the blues for Nanji, who said he believes the genre is still vital but has become more fractured, fully permeating other styles of popular music.
"It seems like there's a lot of bands out there that aren't really traditional blues, but they're keeping the spirit alive," he said. "It's spread out across nearly every genre. Bands like The Black Keys have done really well with it."
Ultimately, it's the live shows like Thursday night's Blues in Central Park appearance that Mato lives for. He's simply a born entertainer, someone who has known exactly what he wanted to do for a living ever since he was a young boy growing up in a South Dakota Native American reservation. It's easy to envy the self-assuredness with which he pursues his passion.
"I'm pretty happy being able to make records and keep touring, because no matter how much you tour, you're never going to hit every possible city," he said. "There will always be new places to play. Being on the road can be tough, but the response from fans makes it worth it. That's what it's all about."