Blues Band Indigenous to play Janesville's Armory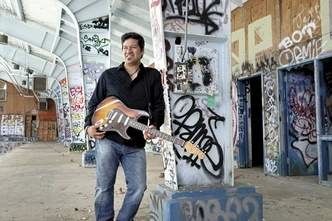 Guitarist/singer Mato Nanji is the frontman for power blues trio Indigenous, which will perform May 1 at the Armory in Janesville.
By Bill Livick, Special to The Gazette
JANESVILLE—It's a long way from the Yankton Sioux Reservation in South Dakota to Washington, D.C., where guitarist/singer Mato Nanji performed at the American Indian Inaugural Ball in January 2013 to celebrate the re-election of President Barack Obama.
The contrast between a rural Indian reservation and the opulence of Capital Hill is symbolic of  Nanji's musical journey since the blues-rock band Indigenous burst onto the national scene 15 years ago.
Now an award-winning band at the forefront of American blues music, Indigenous will appear at the Armory on Thursday, May 1. The band features Nanji on vocals and lead guitar, Derek Post on bass, guitar and vocals, and Charles Sanders on drums.
Guided by his musician father, Greg Zephier, Nanji formed Indigenous with his brother, sister and a cousin in the early to mid-1990s, while the four were still teenagers. Nanji said the group practiced for a solid year before playing for an audience.
"The band really got going once we were old enough to play in clubs," Nanji said in a telephone interview.  "We played for a year straight, and then my dad started booking us at high schools and any place he could find. We started touring when we were in our early 20s."
Indigenous released its debut album, "Things We Do," in 1998. The next year, it won three awards at the Native American Music Awards, including album of the year and group of the year.
The record also produced a single, "Now That You're Gone," which peaked at No. 22 on Billboard's mainstream rock chart, making Indigenous one of the first American Indian bands to achieve that level of success. Amazon.com named the band blues artist of the year, and Indigenous was featured on a host of national television and radio programs.
Blues icon B.B. King became a self-proclaimed fan and invited Indigenous to join his Blues Festival Tour.
Indigenous has had two albums that reached No. 3 on Billboard's top blues albums chart. The band's 2006 release, "Chasing the Sun," peaked at No. 2.
Nanji said a personal highlight came in 2002 when he was invited to join the Experience Hendrix Tour, a month-long series of concerts featuring some of the country's top blues guitarists performing the music of Jimi Hendrix.
Nanji developed friendships with several artists—relationships that carried over to various recording projects with such stars as Jonny Lang, Kenny Wayne Shepherd, Eric Johnson and Robert Randolph. After their 2012 Experience Hendrix Tour, Nanji collaborated with two of his fellow EHT band mates, David Hidalgo of Los Lobos and Luther Dickinson of North Mississippi Allstars, on the hard-driving, blues-infused "3 Skulls and the Truth."
After his original group disbanded in 2006, Nanji continued to perform for a few years and in 2009 reformed Indigenous under its current "power trio" lineup.
At home in South Dakota, Nanji works closely with his wife, Leah, who provides lyrics for many of his songs, which always begin on an acoustic guitar.
"That's the only way I write when I'm at home," he said. "I don't have like a big rehearsal space or anything. I just have my acoustic guitar. We just sit around, and I have these ideas and put them down on this little hand-held digital recorder.
"My wife helps with the ideas," he said. "We write songs together all the time. If I'm on the road, we talk on the phone about ideas, and she gives me lyrics. Then we finish the songs when I get home."
Nanji noted that his wife sang background vocals on the album he released in 2010, "The Acoustic Sessions."
"She wrote a lot of the lyrics and helped with the melodies as well," he said.
He explained that the messages in his songs are often unclear while he's in the process of creating them.
"When I write, I just let it flow, not really knowing what the song's about, and they become what they are," he said.
"When I was young, the music I listened to had no boundaries. So when I write, I just want the music to make people feel good—that's what it's all about. Music shows there's a connection between everybody.  That's one of the things I like about it."