Navajo Blues Trio The Plateros Forge Ahead -- as Indigenous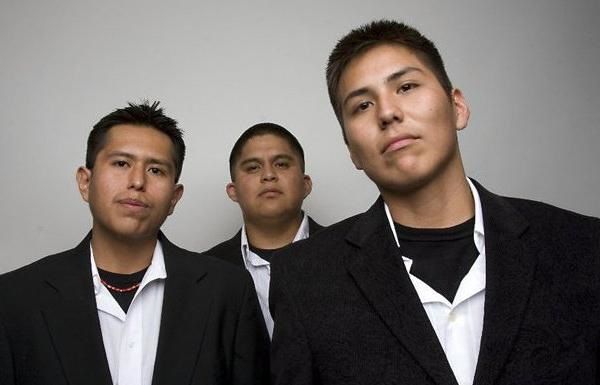 Two of the most recognizable names in the Native music world, Indigenous and The Plateros, are now one.  After two consecutive summers of touring together, the blues trio of cousins has become the next generation of Indigenous.  Frontman Mato Nanji, winner of the Artist of the Year at the 2014 Native American Music Awards, will still lead the band.  But Levi Platero, Bronson Begay and Douglas Platero will be his new cohorts as the band gets back to its Native roots.  ICTMN caught up with Levi Platero, after a performance at the New Mexico State Fair.  "Mato asked us if we wanted to become his band full-time," Levi recalls. "Me and the guys actually thought about it. 'Wouldn't it be cool if we were actually to become Indigenous?'  It never really occurred to us that it would really happen.  At first, we were just opening for them.  Later, we started helping with a few shows.  Now, he's picking us up to be his full-time band, which is just incredible.  And, it's awesome.  I'm really excited about it."
For the immediate future, they will not be performing as The Plateros. "It's just going to be Indigenous," Levi says. "It will always be there.  We'll be able to do side gigs.  Plateros will be the side project now -- it used to be Indigenous as the side project."  The Plateros had been in the studio, working on a new album, but they are going to suspend those efforts in favor of this newer development.  "It's been slow going.  This is kind of like a safety net.  It just kind of happened that's really going to help us out.  And maybe give us more exposure.  At the same time, maybe we can land a record deal.  And maybe we'll be able to finish the album -- there's still quite a bit to do with the album." 
It's no accident that more doors are to open for them.  The band has grown and matured over the recent years.  Their fans can hear, and see, the differences in their performances. Levi can also sense the changes.  "When I first started playing, I felt it a lot," he says. "And then it got really technical at one point.  About a year ago, it was all just technical and trying to just play right.  And recently, I just kind of put it down, all the technicalities.  Yeah, they're still there.  I do play some of it, if I still want.  But, maybe 90% of the time, I just feel it now.  It's more of a feeling than anything.  I just love the way I'm playing right now -- I just play. It's kind of like showing my emotions on stage, now."
The new arrangement shouldn't be that great of a challenge for The Plateros, though.  They do lead full and active lives off the stage as well.  Levi and Bronson are both full-time students at the Southwestern Indian Polytechnic Institute (SIPI) and Douglas is full-time husband and father.  And they're used to balancing a busy schedule.  During one holiday stretch they performed as the opening act for the comedy duo James and Ernie. "It's always a great crowd.  They usually pack the place.  And what makes it better is it's in Navajo country." 
"I like opening better," adds bassist Bronson Begay. "But of course, head-lining is our goal."  The band mixes in familiar covers with their own original songs.  They've been recording, a couple of songs at a time -- but studio time is not free.  Financing the recording is still a major obstacle. 
The band cites several musicians that they'd like to perform with.  They have already performed with Los Lonely Boys.  But, other on their wish list include John Mayer, George Strait, Keith Urban, and Chris Young, to name a few.  They are not limited by genre or style of music either.  The group regularly performs for their church services.  And drummer Douglas Platero cut his musical teeth performing country-and-western tunes.  "I think it's Navajo culture...just the whole western scene," Begay says. "Country is big out there.  And when you put us out in Navajo country, everybody is kind of like 'what?'  We used to write a set list -- but now, Levi just wings it." 
Even though the trio is on the youthful side of 30 themselves, they are aware that there are younger ones coming behind them, and they strive to set a good, positive example.  Begay says the goal is to "influence younger Native generations to strive for something and follow their dreams.  Stay in school.  And, that's we get our drive.  Full on gospel.  We all grew up gospel.  We all believe in God.  And, it's through Him that we're able to do this."  Levi agrees, and continues "My goal is to make a way for Native youth.  You know, you can achieve your goals.  You don't need drugs or alcohol to slow you down.  We're people like everybody else, so why can't we achieve our goals like everybody else?  And, if we won a Grammy or some other high achievement, that would be great.  So, Native youth could see that we're able to do whatever we want to; it's possible."
To keep up with the further advendures of Levi, Douglas and Bronson -- whether as Plateros or Indigenous -- check theplateros.com and facebook.com/theplateros.