By Blues Blast Senior Writer Terry Mullins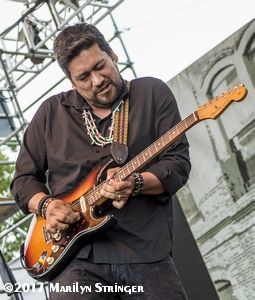 He's not a politician, he's not a lobbyist and he doesn't hold a degree in environmental sciences.
Mato Nanji is the vocalist, guitarist, songwriter and front man for the band Indigenous.
In addition to the skills that have helped to make Indigenous a force on the blues scene ever since their first album – Things We Do (Pachyderm Records) – came out in 1998, Mato (Ma-TOE) is also blessed with a boatload of good old-fashioned common sense.
"If we don't have water, we don't have people. We don't have anything without water," he recently said.
Mato's response to the firestorm that is currently burning at the Standing Rock Sioux Reservation – the sixth-largest Native American Reservation (in land area) in the United States – boils the essence of the matter right down to its very core.
Water.
The Dakota Access Pipeline (DAPL) is meant to transport oil through four states – and over 1,100 miles- from the Dakotas down into Illinois. When the DAPL was rerouted from its planned path near Bismarck (the capital city of North Dakota), to near the Standing Rock Sioux Reservation, is when the protests began. The tribe that calls Standing Rock its home opposed the new route of the pipeline, because they felt it's construction under Lake Oahe – along with the Missouri River – would pollute those waters and have a harmful impact on countless lives in the area. In addition to the potential for pollution, the tribe also believes the DAPL violates established treaty rights and puts sacred burial grounds in peril.
So far, those tasked with constructing the pipeline (referred to as the 'Black Snake' by many Native Americans in the area) have chosen to ignore many of the concerns with the project and thus, a standoff was born between the two sides.
While it's failed to become the lead story on any of the nightly newscasts that mainstream media has to offer up, the situation at Standing Rock (which covers land in both South and North Dakota) has nevertheless become a huge presence on just about every social media site and that has helped lead to protests and demonstrations in places thousands of miles from the Dakotas. From Denver to San Francisco to Miami and even New York City, those concerned are making their feelings well known.
Mato – who was born and raised on the Yankton Sioux Reservation in South Dakota – has been doing his part to bring awareness of Standing Rock to a heightened level, even helping to bring the blues crowd up to date with the struggle.
Mato has played several benefit shows for Standing Rock this past year and he says he's been encouraged by the response to the shows...